On April 10, 2019, the leading edition for lawyers Legal 500 EMEA published the annual ranking of law firms of the world on different branches of law: corporate, real estate, tax, and others. In the field of «Tax Law», allTax law firm was awarded with Tier 1, which is the highest award of the edition. Apart from allTax,  with the highest Tier 1 of Legal 500 EMEA were awarded the following law firms: Asters, PwC legal, EY legal, Backer McKenzie (Kyiv office), KPMG.
* * * * *

and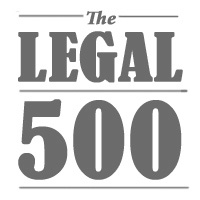 Legal 500 also studied the activities of experts in tax law. Artem Sereda, a partner of allTax legal and tax advisers, was recognized as one of the leading tax law experts in the ranking of Legal 500 EMEA.
* * * * *
Legal 500 EMEA published the following commentary on the activity of allTax:
"Specialist boutique allTax focuses predominantly on tax matters. Clients appreciate the 'accuracy and intelligence' of key partners Artem Sereda and Victor Sereda, who 'can easily explain difficult issues because of his understanding of the needs of the client'."  
* * * * *
allTax is proud of this achievement and strives to enhance its professional skills and outcomes.